Trust Accounting for Legal Firms, 10 Mar 2021
We're delighted to announce a significant new feature for TimeSite Pro: Trust Accounting. Trust accounting is a simple form of bookkeeping used exclusively for trust transactions. A law practice needs to record the receipt and payment of other people's money, with all transactions recorded in individual accounting records.
Together with other enhancements to our Invoice Payments capability, TimeSite Pro now provides a cost-effective solution for legal firms needing an integrated trust accounting solution. You can set up a trust account associated with a specific client or matter, record deposits and invoice payments, and produce trust accounting reports. Specific users can be given access to Trust Accounting via a new user security setting. Trust Accounting is a new paid add-on to TimeSite Pro and is enabled via the Settings > Subscription > Manage Plan screen.
We have also continued to enhance our Invoice feature with new capabilities added to the Invoice WIP screen and Invoice Payments. You can acknowledge payments by emailing a remittance advice directly to your client. Invoices can be paid via credits, if one exists, and from a trust account. You can record credit payments made by your clients and then use the credit to pay a subsequent invoice. Payments recorded in TimeSite Pro will synchronise with your accounting package, such as MYOB AccountRight.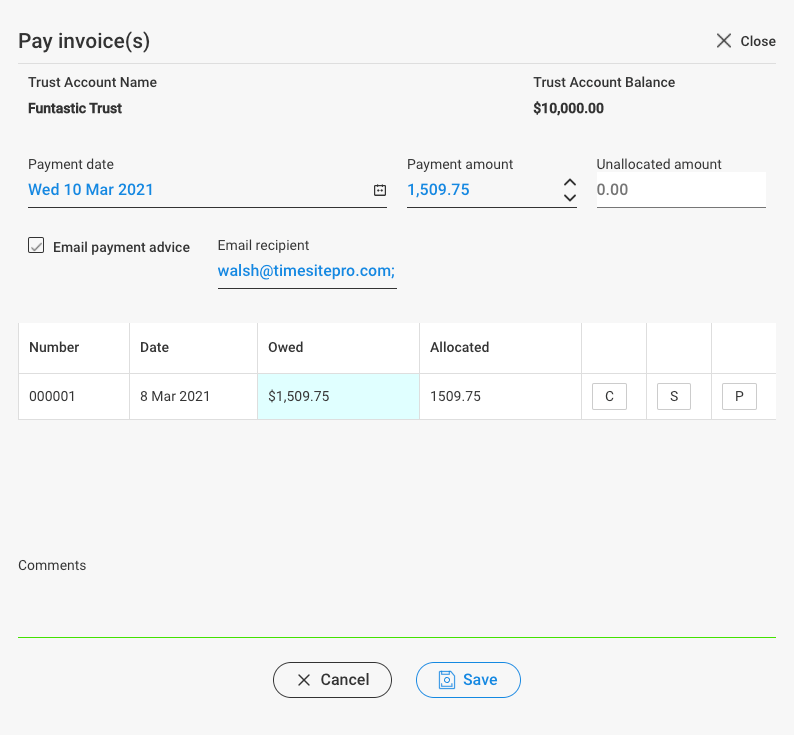 Fixed price projects have also been updated. The Project > Finance tab now shows the cost, potential revenue and billable value of projects in your account. The invoice header of any completed invoice for the fixed price project also shows invoices raised for the project. We've also separated Project > Budget details into its own tab.
We've introduced a new option for our per resource user subscriptions. You have the opportunity to manually set your subscription user count via Settings > Features > Billing > Manually set subscription quantities.
Once this option is enabled, you can fix the number of timesheet users you wish to manage in Settings > Subscription > Manage Plan. The TimeSite Pro billing system will not automatically change your resource user count as you add and make inactive your resource users.
Finally, we have made some changes to the main navigation menu of TimeSite Pro. We have removed Settings from the top menu and replaced it with a "gear" icon in the top right corner. This change gives us a little more room for recent new menu items such as Shifts, Tickets, and, now, Trust. We are making sure our screen design is more consistent throughout TimeSite Pro. You will notice that row icons for Edit, Delete, and Copy are always on the screen's left side. We're also improving items such as scroll bars, etc.
As always, we continue to improve the performance of TimeSite Pro. For example, you may notice that moving from screen to screen in Admin is now much faster. Let us know if you have any suggestions for improvements to TimeSite Pro that will help you and your colleagues. We are always keen to hear from our customers as to how we can improve our solution.
---