TimeSite completes our new Messaging feature, 21 Jan 2020
Our TimeSite Pro development team is off to a fast start for 2020 with the completion of our new Messaging feature.
Previously, you set up email and SMS messages for reminders to submit timesheets, etc. in Settings > Email & Messaging. This interface was becoming unwieldy as we added new options such as user onboarding messages. We had also been asked by several customers to develop a new "broadcast" feature to send one-off messages to all or some of their TimeSite Pro users. We decided to implement our new Messaging capability in two stages: release the broadcast message first, then transfer our existing notifications out of the Settings screen and into the new Messages screen.
We hope that you'll agree that this new UI makes life a lot easier for your administrators to set up and manage TimeSite Pro notifications.
The Messaging screen now has three configuration options (tabs) and a new logging tab. You can configure One-Off broadcast emails (announced in December), Scheduled notifications such as reminders to submit a timesheet, and Triggered messages such the user onboarding email.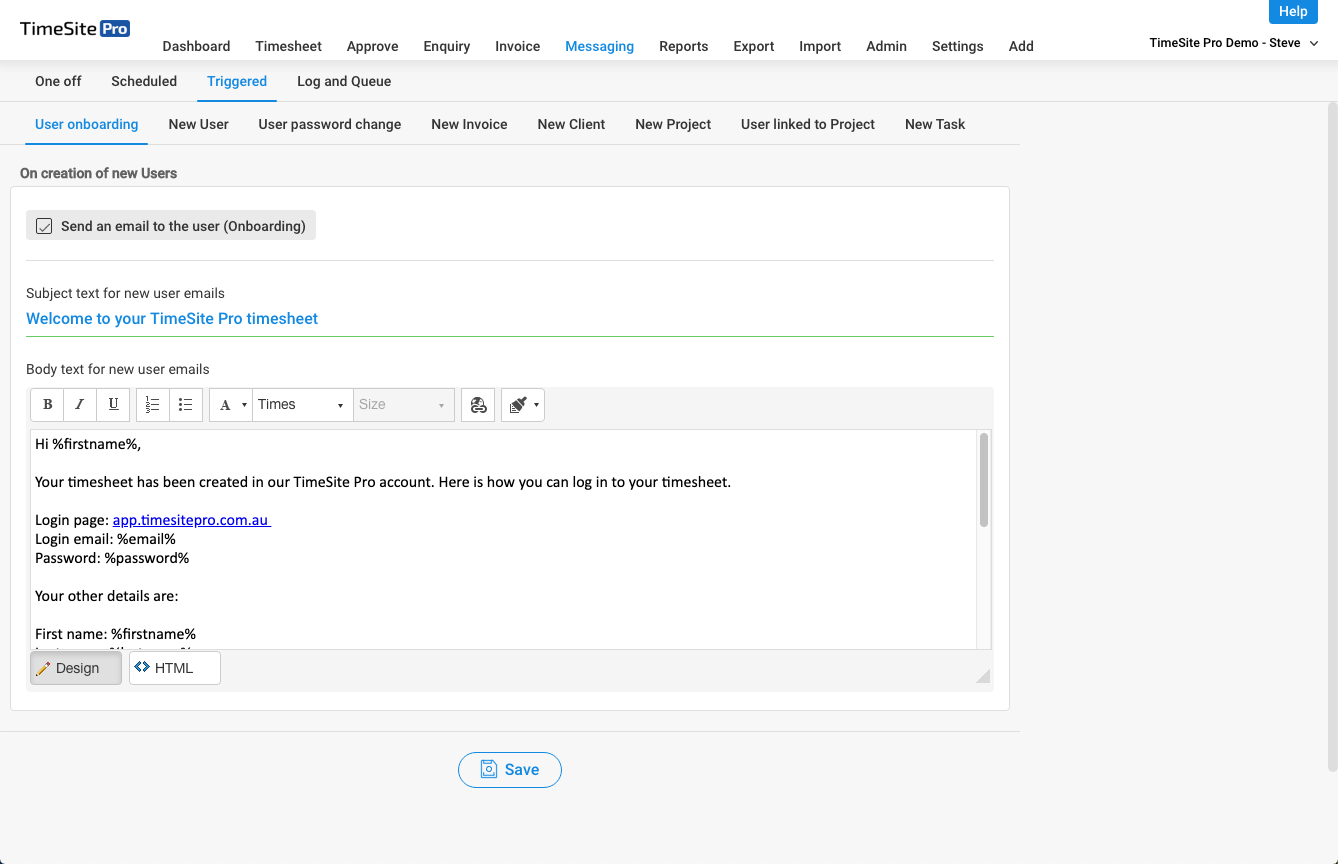 We still have some additional ideas for our Messaging capabilities but, in the meantime, if you have any feedback for us, please send us an email to [email protected].
As always our 19 January build includes additional quality of life improvements. Go to our detailed Announcement article in our Knowledge Base for more information.
Summary of Enhancements
Move message set up from Settings > Email & Messaging to new Messaging screen
Include messaging log and queue screens
Implement new messaging engine
Improve decimal parsing to better handle error situations
Correct mobile app support for old timesheet records (>1 month)
Resolve issue with timesheet settings screen saving when opened from the add timesheet record popup page
Resolve google maps script issue on dashboard
Add all records option to the approval status filter in the enquiry screen
Improve timesheetsmall screen, make font sizes more consistent
Add right-click and menu button to timesheet items grid in approval screen
Enable printing timesheets from popup screen in approvals
---