TimeSite Pro version 7 launched, 20 Dec 2017
TimeSite announces the release of TimeSite Pro version 7 today. Version 7 includes:
numerous enhancements to TimeSite Pro core features and capabilities,
the progressive rollout of our new TimeSite Pro UI/EX to additional application screens,
major improvements to our trial provisioning process,
implementation of an interactive support chat service,
new Knowledge Base platform as well as a new in-app help system,
new TimeSite Pro Community platform, and
a new support ticketing system.
We have also rolled out a new version (of our smartphone app that includes both usability enhancements and bug fixes. The latest version of our smartphone app is 1.2.16.
TimeSite Pro version 7 enhancements
Redesigned User - Project Linking logic and interface to simplify project administration.
Implemented a timesheet record Write Off option on the Invoice WIP screen.
Redesigned the Invoice Collect tab to implement our new UI/UX and to improve the invoice collections workflow.
Continued enhancements to the TimeSite Pro Dashboard to provide additional and more detailed analytical information.
Grid Personalisation enables you to show/hide columns, change groupings and sorting in the Timesheet screen format.
You can now download and email invoices in Word .doc format as well as Adobe Reader pdf format.
Client and Project Import has been improved and streamlined.
Included ABN in the User record.
TimeSite Pro Trial Quick Setup Wizard
We've redesigned our trial provisioning service to enable the selection of the most commonly used TimeSite Pro customisation options. This includes changing your preferences for project and task names. cost and bill rates, the default time entry method, timesheet approval, and project budgets.
Once these options have been selected, we will set up your trial account using these settings and load demonstration data according to the industry you've specified in the trial request form.
You can find more information on how to rerun the quick setup wizard in Settings > Quick Setup. Finally, you can find more information on how to reload or reset your trial database in Settings > Remove / Reload Data.
TimeSite Pro Help Enhancements
We are continuing to work on significant enhancements to our help systems. The new Help button in the top right of your browser opens up a new Help panel. You can select a variety of interactive Tours, open our new Knowledge Base, and open a chat with our support team.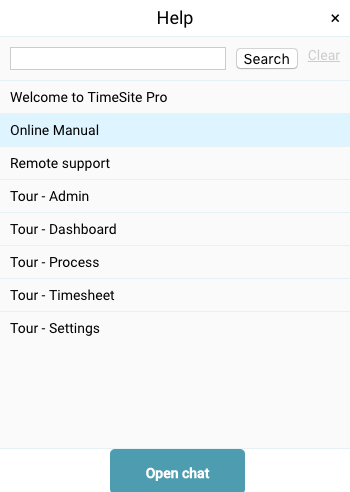 Our new interactive chat service enables you to ask questions of our support team during our office hours. When our support team is offline, you can leave a message for us and we'll get back to you either via chat or an email.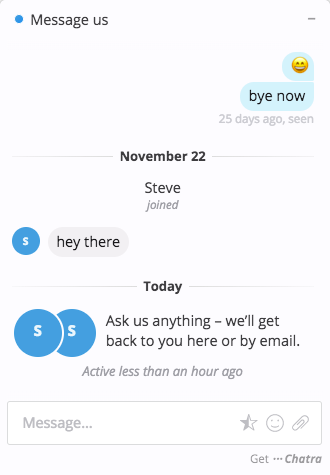 ---